Peach Chevrolet GMC in Brewton Can Find Your Used Car For Sale Today!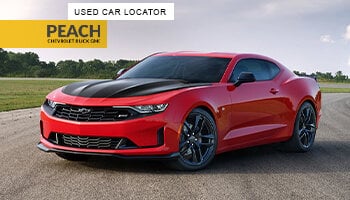 Are you considering a certain car, but you are not sure if Peach Chevrolet GMC has it in stock? Then it is time to turn the chat toward Peach Chevrolet GMC's extraordinary used car locator service.
The best element of using Peach Chevrolet GMC's pre-owned car locator service? By initiating an inquiry via this service, you will not just get the vehicle you need, but you also eliminate all of the challenges that come with working with other, less professional pre-owned car sellers in the Brewton community. Once you recognize how important doing well within this endeavor is to guaranteeing your normal routine is always a piece of cake, how could you ever opt for anything that is not the top-tier dedication to first-class client service and assistance offered here at Peach Chevrolet GMC?
Now that you are up to speed with the basic principles of the pre-owned car locator service, go ahead and join the group of automotive experts here at Peach Chevrolet GMC as we break down the particular details that go into this process. After doing this, you will have all of the insight you need to end up at an educated conclusion related to your outlook.
Getting to the Root of How Peach Chevrolet GMC's Used Vehicle Locator Program Functions
Hitting the ground running with this conversation requires bringing you a deeper review of how we discover the right pre-owned car for you and your family. First off, Peach Chevrolet GMC needs a little bit of information from you to discover more about the vehicle that accommodates your needs. Fortunately, our simple and clear-cut form found at the bottom of this page is more than able to bring this information straight into the possession of our used vehicle analysts.
Once we have this info at our disposal, we will get to work straightaway on utilizing our vast resources to bring you the specific pre-owned automobile that is just right for you. Considering how straightforward this whole undertaking is, why would you ever waste time browsing around in the your daily paper or sorting through unreliable pop-ups and other aggressive ads on third-party used car websites again?
Taking this discussion to the next stage, the Peach Chevrolet GMC team makes it a point to go above and beyond for our valued clients in Brewton via whatever is required. To illustrate just how committed we are to this notion, you can always rely upon our pre-owned car locator tool being entirely free of charge to you. Regardless of the fact that other dealerships might intend to charge you an exorbitant amount as part of helping you get a hold of the best used car, the Peach Chevrolet GMC team is convinced helping you on this front is necessary to set up a legitimately great dealer experience.
A Handful of Guidelines to Help Hasten Your Used Automobile Search
Now that you are well-versed on all that makes up this remarkable free tool, it is naturally a good time to discuss the process of making the most of this utility - and your search for the appropriate used car in total. To steer you toward the right direction within this portion of the process, here are a couple of tricks that can ensure the Peach Chevrolet GMC team of professionals offers up the support you need and you hit the roads of Brewton in the pre-owned car, truck, or sport utility vehicle (SUV) that fits your approach to life:
Do Some Homework Ahead of Time - Despite the fact that spur-of-the-moment browsing is undoubtedly an exhilarating part of the search for your next pre-owned automobile, try not to be drawn in by only the first opinion you develop regarding the automobile that captures your eye. Doing some digging into the vehicle's reliability, interior creature comforts, and other inclusions that can augment your daily drive will guarantee you will have the info you need to decide if this vehicle is truly the right fit.
Sit down and Have a Conversation with Family and Friends - Making use of the advice of others certainly goes far when buying a pre-owned vehicle. By connecting with dependable close friends and family members, you reach an entirely different perspective on your pre-owned car search - and perhaps come across a perspective or thought process that enhances how you tackle this endeavor.
Do Your Best to Be Detailed - As you wrap up the following pre-owned vehicle locator application, make it a point to be as detailed as you can. The more details you hand over to us, the more likely it is our pre-owned automobile experts will discover the perfect pre-owned vehicle for you in a expedient fashion.
Never Be Afraid to Speak with Peach Chevrolet GMC's Staff of Pre-Owned Car Experts - If you end up having uncertainties, go ahead and let us know! We are always here to assist you, so keep us in the loop if you desire to update the search for your next used car, truck, or SUV.
With these suggestions in place, we have no doubts the used car that suits your demands (be it a Certified Pre-Owned Chevy, GMC, or an automobile from another manufacturer) will be part of your life in no time.
How to Begin the Search with Peach Chevrolet GMC's Used Vehicle Locator Program
Now that we have you up to speed, there is most likely only one question left on your mind: "How do I get started with obtaining the right used vehicle for me?" Thankfully, getting started out on this front is as easy as filling out a fast form or picking up your cell and committing to a brief phone call to Peach Chevrolet GMC.
The only thing you need to do is simply fill out the form below when you have a moment (do not forget to be as descriptive as possible!), and we will handle the rest. If you need a little further information, go ahead and and give Peach Chevrolet GMC a call at 251-241-9838 or drop by when you are in the area; no appointment is necessary because Peach Chevrolet GMC is always willing to offer up its services to our friends in Brewton!